Why?
Health research is essencial for our health and, thus, for the quality of our lives. Helping us doing research means helping to heal.
On average, ten years of lab research is needed to get a new treatment to the patients.
Donating even a small amount today will allow the patients of tomorrow to receive the treatment they might need to regain their health.
Remember that all altruistic donations receive tax relief; in case of businesses as well as private persons.
For whom?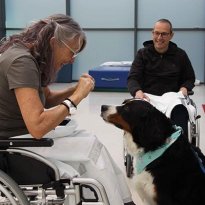 Project:
Programa de Actividad con Perros de Asistencia
Can de la Mano es un programa de voluntariado con perros de asistencia dirigido a minimizar el impacto emocional del ingreso en pacientes hospitalizados.
Collaborate

with "Can de la mano"
Project:
New specialised treatment for high-risk neuroblastomas.
The Clinical and Traslational Research Group in Pediatric Oncology (GICT -OP) is looking for tailor-made treatments for neuroblastoma with the least favourable prognosis. The goal is to obtain an individualised treatment through a personalised and very precise medicinal approach for each of the children according to the characteristics of their tumor.
Collaborate

with "Neuroblastoma"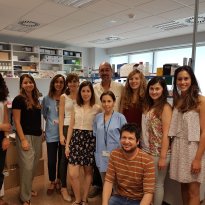 Project:
Search for Blood Biomarkers and Single-Molecule tracking to reduce RNA-toxicity in the Huntington's disease.
The Molecular, Cell and Genomic Biomedicine Research Group, will track more than a million protective substances in the peripheral blood in Huntington patients to collect information on the progress of the disease.
Collaborate

with "Huntington's disease"
How can you help?
You can participate in the IIS La Fe's mission in different ways:
---
All contributions and donations are necessary and are intended solely to the health research.
Thank you for your solidarity.
---
In case you have any question or query please do not hesitate to conact us.
area_juridica(ELIMINAR)@iislafe.es
(+34) 961 246 609