Research Support
Scientific Technological Platforms
Data Science, Biostatistics and Bioinformatics
The Biostatistics service offers an expert approach to statistical problems that arise in research. Its main objective is to promote the application of the most appropriate statistical techniques for each research project, thus maximizing the performance and quality of the results and conclusions obtained.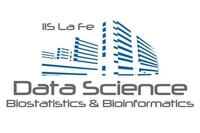 More information in this link
The combination of professionals from different disciplines with expertise in biology, statistics, clinical, etc., provides the Unit with a unique global perspective to deal with the most complex experimental designs and statistical analyses.complejos.
The functions of the Biostatistics Unit are to provide statistical support and advice to researchers and to collaborate in the development and statistical design of experiments, as well as in the processing, analysis and interpretation of experimental data. The Unit is also responsible for providing training courses in the field of biostatistics.
Terms of use
To request the services of the platform, it is necessary to make an appointment and fill out a service request form specifying the services required by the applicant.
The platform is open from Monday to Thursday from 08.00h to 18.00h uninterruptedly and on Fridays from 08.00h to 17.00h.
In accordance with international authorship guidelines, those publications in which a member of the platform has made a relevant intellectual contribution must include the platform member as a co-author.
Services provided by the platform to internal researchers/groups are 100% subsidized up to 55 hours per year per group. After that amount, the service will be charged according to official rates published on the IIS La Fe website. All services in projects that have a specific item of funding for biostatistics will be attended to without limitations at no cost other than the final funding granted for this purpose in the project.
Services provided by the platform to external groups or companies will be governed according to the current official rates published on the IIS La Fe website.