Courses and seminars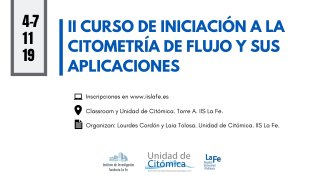 From to
IIS La Fe
09:00 h.
Dirigido a graduados en Ciencias de la Salud (Biología, Bioquímica, Biotecnología, Medicina) o investigadores que deseen incorporar la técnica de citometría de flujo a sus experimentos.
Una vez inscrito/a recibirá un email con los datos para realizar el pago.
Read more about "II CURSO DE INICIACIÓN A LA CITOMETRÍA DE FLUJO Y SUS APLICACIONES"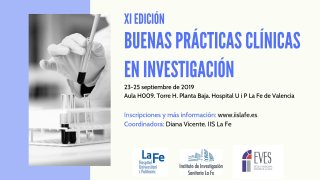 From to
Aula H009, Torre H, Hospital La Fe
09.00 horas
El objetivo del curso es estimular y facilitar el desarrollo de una investigación clínica de calidad y excelencia, mejorando y actualizando los conocimientos en la normativa de Buenas Prácticas Clínicas del personal investigador y del resto de personal involucrado en la puesta en marcha y realización de Estudios Clínicos, así como, de las Directivas Europeas y la normativa nacional vigente.
Read more about "Módulo 7S: Buenas Prácticas Clínicas en Investigación (11ª Edición - Septiembre 2019)"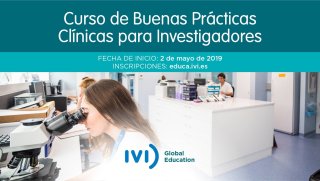 From to
Campus online IVIRMA
----
Curso organizado por la Unidad de Apoyo y Gestión a la Investigación (UAGI) de la Fundación IVI.
Read more about "Curso Online de Buenas Prácticas Clínicas para Investigadores-Fundación IVI"