Antibacterial and virucidal interface for non-invasive mechanical ventilation

Area:

Digestive and Hepatic Pathology

Group:

Perioperative Medicine, Anesthesiology and Revival

Type:

Modelo de utilidad
The invention consists of the design of a mask for Non-Invasive Mechanical Ventilation (NIMV), manufactured with a bactericidal and viricidal plastic filament, whose objective is to increase the safety of patients and health professionals, in order to minimize the spread of airborne infectious diseases, as in the case of COVID-19.
The secondary objective is to improve the tolerance of patients to NIMV through the implementation of measures that increase the comfort and ergonomics of the masks, allowing a longer treatment and a better tolerance in the clinical use of them.
The advantage of this technology is the incorporation of a material with viricidal and bactericidal properties, which prevents the proliferation of pathogenic organisms on their contact surfaces. On the other hand, the design of the masks, by covering the airways to provide ventilatory therapy, allows double protection, on the one hand, the barrier effect and on the other, the viricidal and bactericidal effect. Currently, there is no type of mask with these capabilities.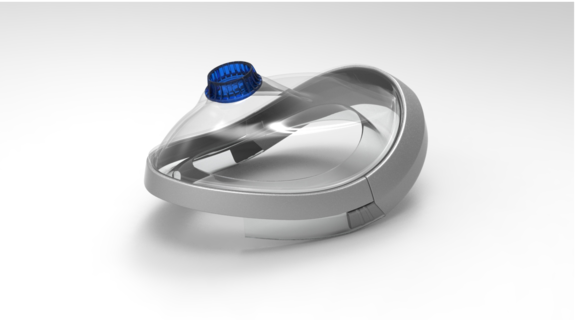 Business application sectors
Application in the hospital and out-of-hospital environment by different medical specialties dedicated to the treatment of patients with Acute or Chronic Respiratory Failure of any etiology, with special emphasis on patients with COVID-19.
Technical advantages and business benefits
Filament-based mask that prevents the passage of viruses, including COVID.
More ergonomic, full-face design.
Improved safety for patients and professionals.
Better tolerance by patients.
State of technology development
Currently the technology is in TRL 5. The prototype is available and it is in the process of validation at the component level in a relevant environment.
Intellectual Property Rights
Utility Model, U202130263, dated February 10, 2021, granted on April 21, 2021.
Title: Antibacterial and virucidal interface for non-invasive mechanical ventilation
Collaboration wanted
The authors are seeking investors or companies that are willing to license the technology, as well as new financial sources to cover prototype manufacturing expenses, laboratory testing and trials including healthy volunteers and patients.