Pioneering work of IIS La Fe in European research alliance for Big Data in blood cancer: the HARMONY Alliance
Using Big Data analytics and Artificial Intelligence to improve the care for patients with blood cancer. That is the aim of the HARMONY Alliance, a large European public-private partnership that was co-founded by La Fe Health Research Institute.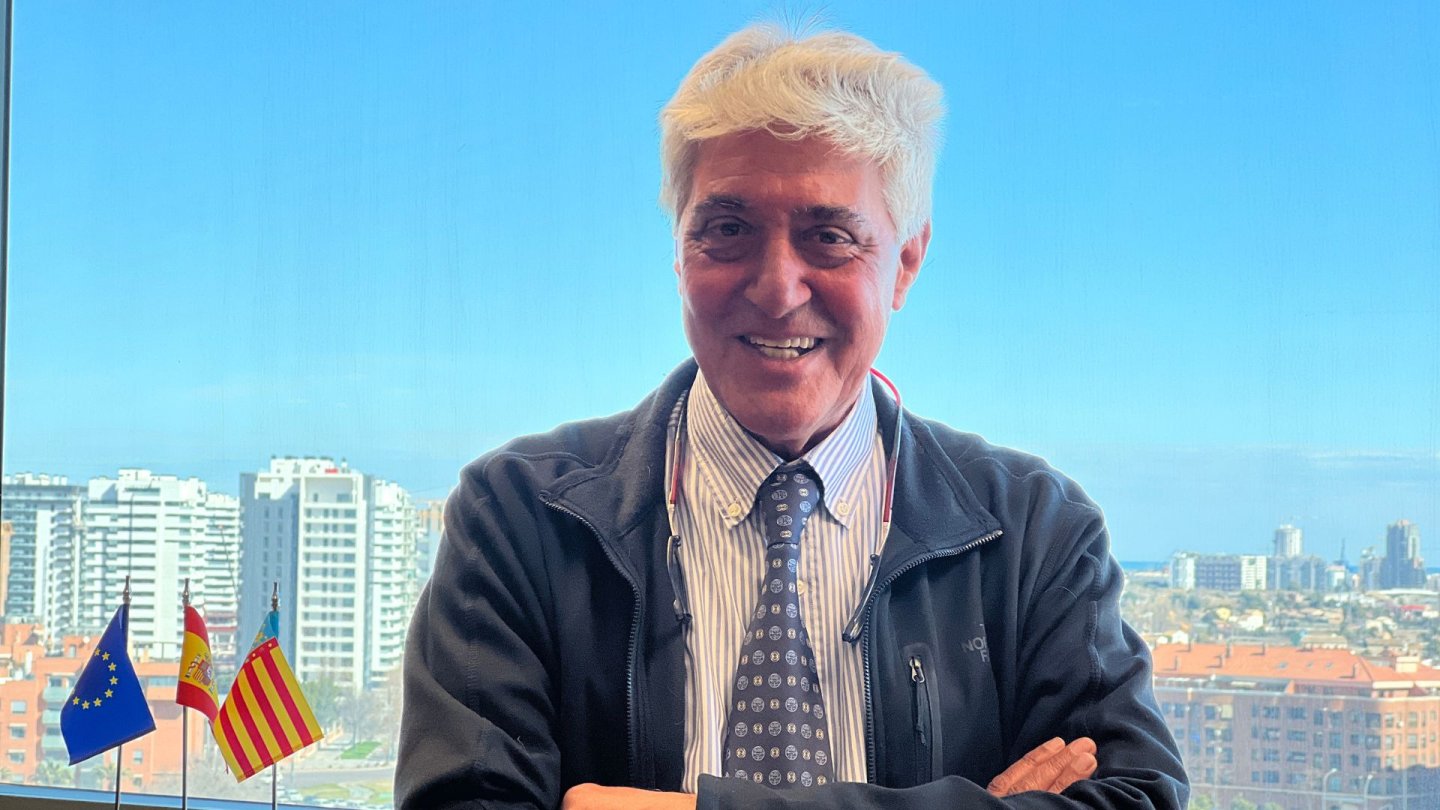 Using Big Data analytics and Artificial Intelligence to improve the care for patients with blood cancer. That is the aim of the HARMONY Alliance, a large European public-private partnership that was co-founded by La Fe Health Research Institute. "HARMONY has been a true pioneer in many ways," says HARMONY co-chair Professor Guillermo Sanz.
The Scientific Director of La Fe Health Research Institute is visibly proud:
"When HARMONY was launched in 2017, there was no comparable project on Big Data in hematology. We were convinced that Big Data and Artificial Intelligence could improve the lives of blood cancer patients, for instance by revealing new biomarkers. We have achieved a lot, especially in acute myeloid leukemia, which was our pilot project," says Sanz.
One of the impressive achievements of the HARMONY Alliance is the development of the HARMONY Big Data Platform containing anonymized data records from tens of thousands of blood cancer patients. This unique research infrastructure, with a data lake and advanced big data analytic tools, is being used to accelerate the development of more effective treatments for patients with hematologic malignancies (blood cancers).
The HARMONY Alliance is a Public-Private Partnership for Big Data in Hematology including over 100 organizations such as European medical associations, hospitals, research institutes, patient organizations (the HARMONY Patient Cluster), pharmaceutical and IT companies. The HARMONY Alliance is funded by the Innovative Medicines Initiative (IMI, now called Innovative Health Initiative, IHI) of the European Commission and is currently running two projects: HARMONY (January 2017-June 2023) and HARMONY PLUS (October 2020-September 2023). In addition to the research projects that exploit the HARMONY Big Data Platform, the HARMONY Alliance has developed core outcome sets for HMs, initiated Health Technology Assessment projects and organized multi-stakeholder activities.

Developing innovative data tools to accelerate hematology research
IIS La Fe is coordinating HARMONY together with Instituto de Investigación Biomédica de Salamanca (ISBAL). The alliance faced some challenges before the HARMONY Research and Data teams could start working with the Big Data Platform. For instance, a new method called 'de facto anonymization' needed to be developed. This method guarantees the data privacy of patients, while allowing the addition of new data to patient records that are already in the platform.
Sanz: "The new European regulation on data protection - the GDPR - was installed right at the time HARMONY was launched. So, we had to develop a novel method that respected the GDPR, as well as the national regulations of the 12 countries that were involved in HARMONY at that time. De facto anonymization allows for updating the evolution of the disease in patients without deanonymizing the data. This method will be very useful for all European projects that use data lakes. It has been a major challenge to develop this unique HARMONY method. I might also be one of the reasons why the IMI (now renamed IHI) has given us an extra 1,5 year to complete the HARMONY project."
In the first years, the research activities of the HARMONY Alliance focused on seven blood cancer types: acute myeloid leukemia (AML), acute lymphoblastic leukemia (ALL), chronic lymphocytic leukemia (CLL), myelodysplastic syndromes (MDS), multiple myeloma (MM), non-Hodgkin lymphoma (NHL), and pediatric blood cancers. More recently, the scope was expanded to comprise the full range of hematological malignancies (i.e., blood cancers), also including for instance Chronic Myeloid Leukemia (CML), Myeloproliferative Neoplasms (MPN), Hodgkin's Lymphoma (HL), and Waldenström macroglobulinaemia (WM) in a new IMI-granted project, Harmony Plus.
Involving all stakeholders
Another challenge of HARMONY was to involve all relevant stakeholders in the alliance: European hospitals, research institutes, medical associations, patient organizations, pharmaceutical companies, IT companies, health technology assessment bodies, and regulatory agencies.
Sanz: "At the start of HARMONY six years ago, around fifty partners were involved. I remember IMI representatives stating that the size of the alliance would be both a strength and a weakness. Indeed, such a large consortium is very difficult to manage. However, we have succeeded in maintaining the unity of the alliance with the crucial help of the European Hematology Association, also a co-founder of HARMONY. In fact, we have grown substantially. More than 150 organizations are involved in HARMONY now. Apart from founding partners, we have created the concept of 'associate members', organizations who contribute data and who can also submit research projects."
Ensuring high data quality
As a result of the concerted action of all stakeholders, the alliance had identified more than 150,000 patient datasets by 2022 and had transferred over 80,000 datasets into the HARMONY Big Data Platform. In addition, a dedicated data quality supervision committee has been installed. Chaired by Sanz, this committee ensures that only high-quality data are entered into the platform. Although most data records in the platform were contributed by academic institutions, pharmaceutical companies have also shared data from several clinical trials. This is the first time this has happened.
Sanz: "It is very valuable that public and private institutions collaborate and share data; I consider this one of HARMONY's major achievements. It shows that the platform and the data protection measures are sufficiently strong and safe."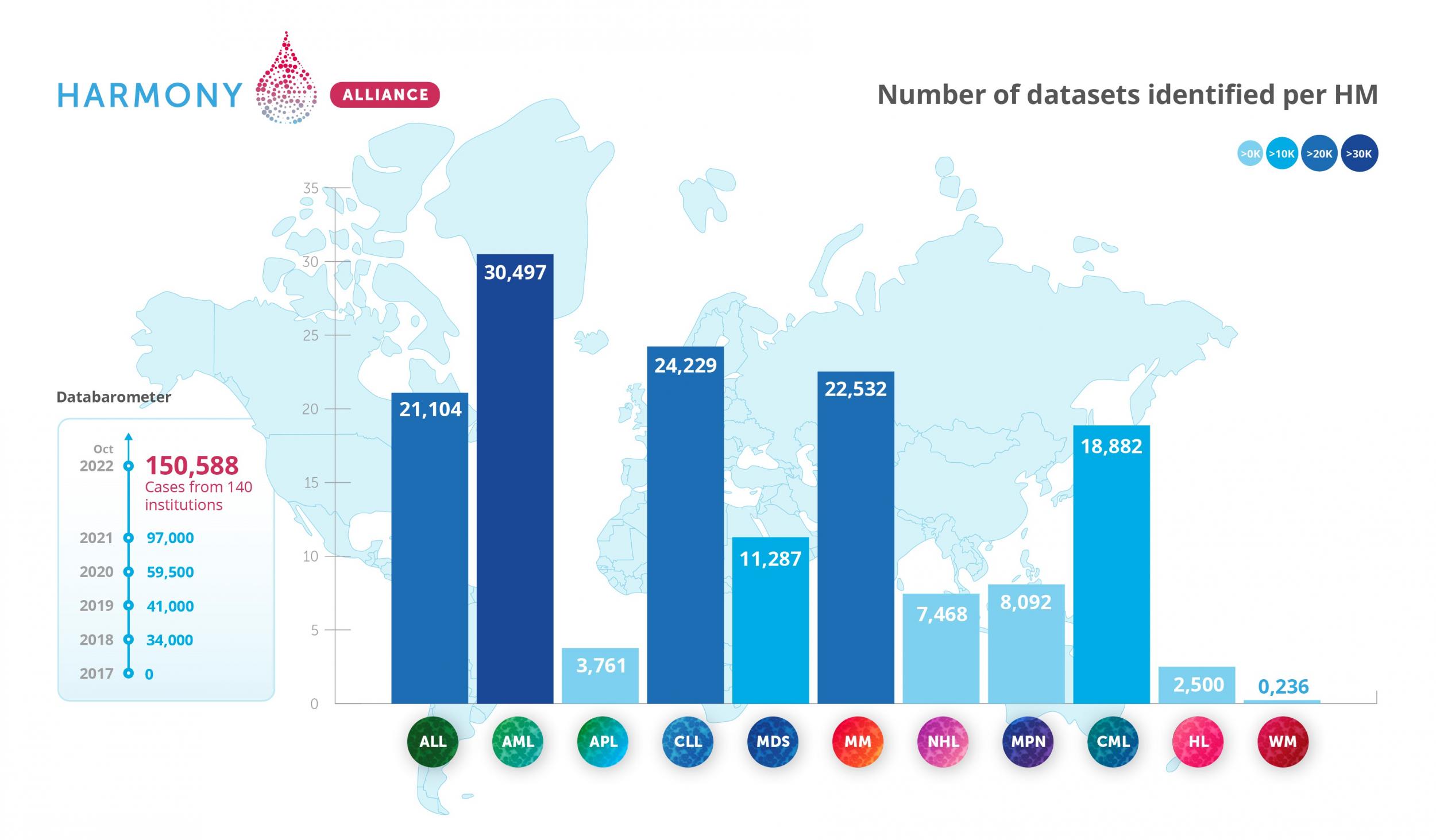 Facilitating tailored treatments
The enormous investments made by the alliance have paid off. Especially in the field of AML, HARMONY has provided important novel insights that may benefit patients in the future.
"The Big Data Platform contains data sets from tens of thousands of AML patients, including high-quality data on genomic mutations. HARMONY researchers have discovered that the co-occurrence of certain mutations has a substantial impact on the outcome in AML patients. These mutations may thus act as biomarkers that can help clinicians to decide if a particular patient is likely to benefit from a stem cell transplantation or if a less intensive treatment would suffice. These results could not have been obtained without the use of Big Data".
Speeding up decision-making
Recently, HARMONY has embarked in collaborations with regulatory agencies to speed up the evaluation of new drugs. At present, the European Medicines Agency (EMA) uses data from clinical trials to decide if novel drugs are approved. The participants of clinical trials constitute a highly selected subgroup of patients, so the trial results may not be representative for many other patients with the same disease. Thus, the EMA is keen to use data collected directly from patients in real-world settings in the decision-making process.
Sanz: "Information collected in the real world cannot be used by the EMA at present because it is too heterogeneous. We are now aiming to use the HARMONY Big Data Platform to simplify the design of clinical trials. The outcomes of patients that receive an investigational drug could be compared with the outcomes of patients in our platform that received the standard of care. This single-arm design would substantially decrease the costs and duration of clinical trials. Moreover, clinical trials often take long because they use long-term outcomes such as 'overall survival' and because it takes long to recruit enough patients that meet the selection criteria. The identification of short-term outcomes that could act as surrogates of overall survival would speed up clinical trials. As a result, patients could have faster access to drugs that are more efficient and less toxic, at a reduced market price. However, we still need to increase the number of Real-World Data sets in the HARMONY Big Data Platform to make this possible. This is an ongoing endeavor."
Establishing transatlantic collaborations
As the former head of the Clinical Hematology Section at Hospital La Fe, Sanz is an expert in the field of MDS. He is actively involved in HARMONY's research projects in MDS, and he has recently connected the alliance with MDS experts in Latin America and North America.
Sanz: "In the beginning, we focused on Europe, but at a certain point we were able to launch collaborations with other parts of the world. Connecting with the American MDS groups was a major step in letting our community grow. However, the regulations are different there, so we must find a way to share the data between the two continents. Solving this will be crucial for future studies involving institutions from both sides of the Atlantic."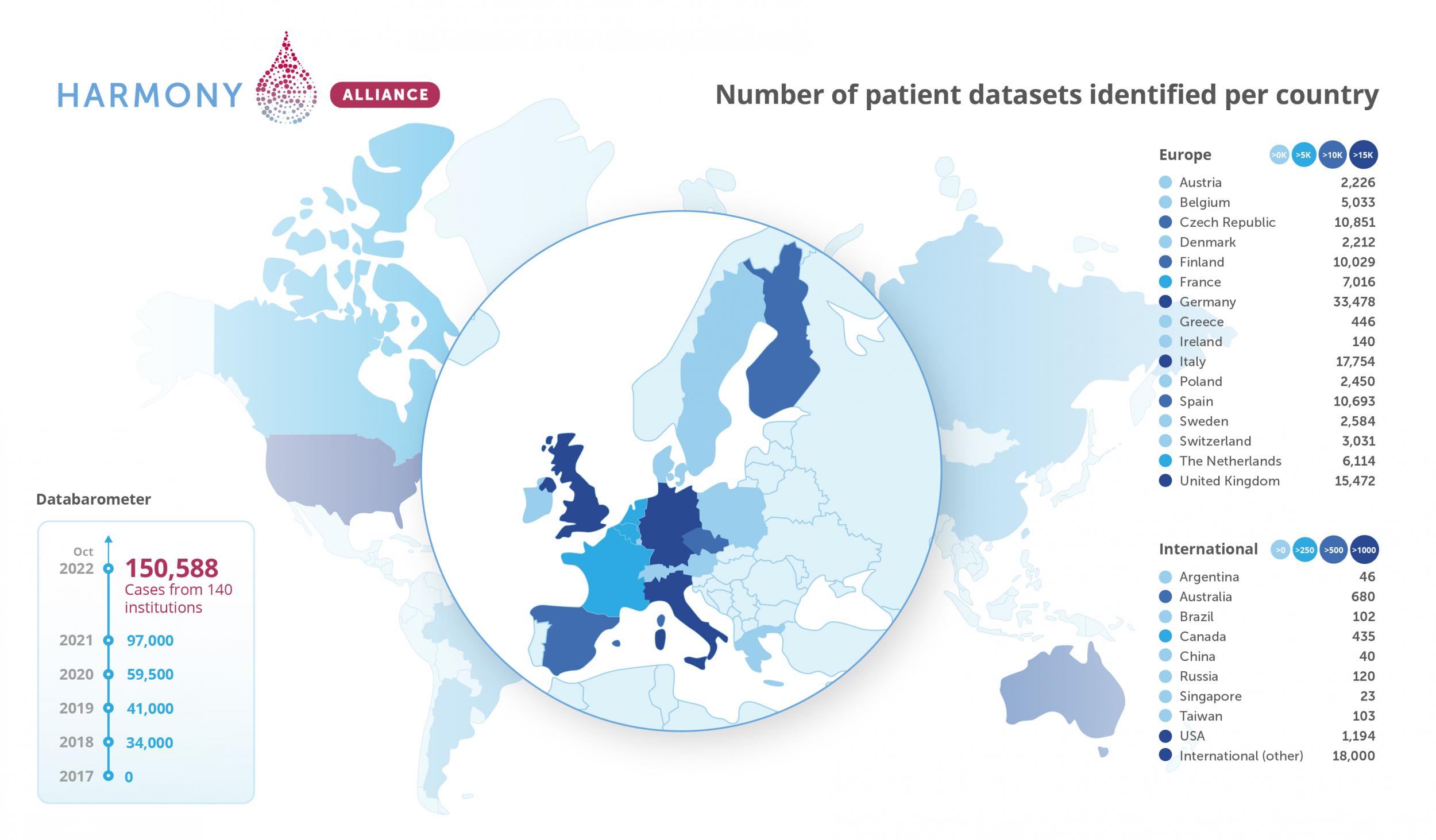 Preparing the HARMONY Alliance Research Foundation
With funding from the IMI ending in September 2023, the alliance is now working on a sustainability plan, which will lead into the HARMONY Alliance Research Foundation. Regardless of the precise details of the plans, the efforts of the alliance will result in applications in the clinic and in data innovations in the future.
"Everybody involved in HARMONY is convinced that this project should continue in the future because patients benefit. My hope is that the alliance will keep cherishing its multi-stakeholder nature, because that is one of the things that makes HARMONY unique. We will need the help of stakeholders from across Europe to further increase the amount of data in the platform, so that we can continue improving the care for blood cancer patients across the globe", concludes Sanz.
At Hospital La Fe, all patient information is stored in electronic health records. Data from around 400,000 patients has been stored in the past ten years. The health records may include more than 100,000 variables per patient, ranging from medical images to clinical data, genomic data, geographical data, patient-reported outcomes, information about treatments, costs of treatments, the number of times the patient entered the outpatient clinic, and so on. This big digitization endeavor, led by the group of Dr Bernardo Valdivieso, has enabled IIS La Fe to become one of the members of the EHDEN project, which is another significant Big Data project funded by the EC. In addition, IIS La Fe is the only Spanish institution that has been authorized to contribute data to the Data Analysis and Real-World Interrogation Network (DARWIN EU) of the EMA. DARWIN EU delivers real-world evidence from across Europe on diseases, populations, and the uses and performance of medicines. This should support regulatory decision-making.
In January 2023, the EC launched the European Cancer Imaging Initiative (EUCAIM) to improve the use of innovative data-driven solutions for cancer treatment and care. EUCAIM will work towards creating a digital infrastructure linking up resources and databases of cancer imaging data across the EU, while ensuring adherence to high ethics standards, trust, security, and protection of personal data. This new project involves around one hundred partners from across Europe, and the group of Dr Luis Marti-Bonmati at IIS La Fe, working in radiology and digital imaging, is its scientific director. This group is leading several European projects on digital imaging in the field of cancer research.
"La Fe is very well-prepared to compete in the different initiatives of the EC and its IHI calls because we have this rich Big Data resource with high quality control. This is something our institute can be proud of." - Guillermo Sanz