"Empowering Hospital" – Emp - H.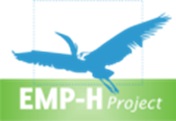 Call

Project Grants (HP-PJ) 3rd EU Health Programme.

Principal investigator

Dr. Bernardo Valdivieso

Role

Participant

Year

2015
This multicentre project aims to foster health promotion interventions and environments suitable for prevention of diabetes or cardiovascular diseases. The strategy is based on the Health Promoting Hospitals (HPH) framework with a strong emphasis on evidence based prevention and would operate through a salutogenic approach (WHO Europe 2012) focusing on factors which support human health and well-being.