LONGEVITY WORLD FORUM 2019

Palacio de Congresos.

9.30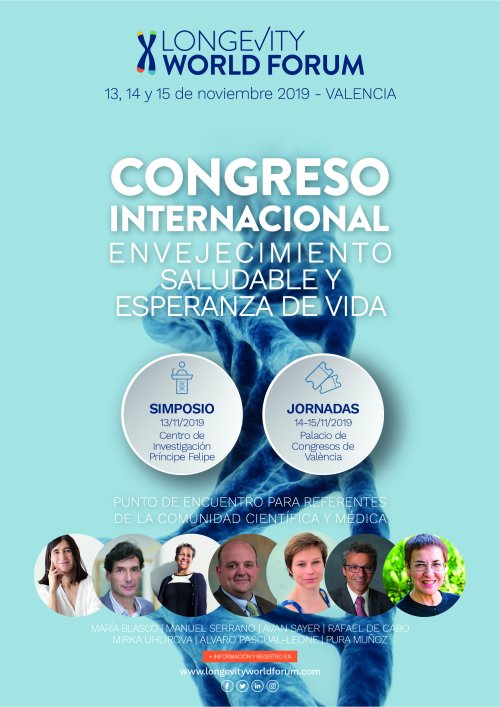 Congreso pionero a nivel mundial sobre longevidad y envejecimiento saludable
Simposio: 13 de noviembre de 2019. Centro de Investigación Príncipe Felipe.
Congreso: 14 y 15 de noviembre de 2019. Palacio de Congresos.
Comienza el Cuatro bloques temáticos:
Conociendo la longevidad (últimas investigaciones aplicadas en la longevidad).
Exposición de las investigaciones más avanzadas que se están realizando actualmente en el campo de la longevidad.
Innovación en I+D+I en longevidad: el papel de la industria.
Espacio para empresas referentes en el campo de la longevidad: explicarán los servicios que ya están ofreciendo, las aplicaciones para diferentes enfermedades y los tratamientos disponibles para pacientes.
Aspectos socio-económicos de la Longevidad: 'Hacia una sociedad más longeva'.
Análisis de los efectos sociales y económicos, tanto ventajas como retos, que implica una sociedad con una esperanza de vida cada vez mayor.
Pautas para un envejecimiento saludable.
Exposiciones de profesionales referentes en el campo de la longevidad que ofrecerán pautas para una mayor esperanza de vida en las mejores condiciones de salud posibles.
Cuentan con voces referentes del sector como son;
Rafael de Cabo, Chief of the Translational Gerontology Branch at the National Institute of Aging, Baltimore.
Bill Cherman, Co-founder, Repair Biotechnologies, Inc (USA)
Álvaro Pascual-Leone, profesor de Neurología en la Escuela de Medicina de Harvard.
INFORMACION RELEVANTE DEL CONGRESO:
· Enlace a la web del Longevity World Forum: https://www.longevityworldforum.com/es/
Import Outlook Calendar
Import Google Calendar