El IIS La Fe participa en la XI Reunión Anual de CIBERER
Los grupos de investigación en Biomedicina Molecular, Celular y Genómica y Patología Neuromuscular y Ataxias han participado en la XI Reunión Científica Anual del Centro de Investigación Biomédica en Red de Enfermedades Raras (CIBERER).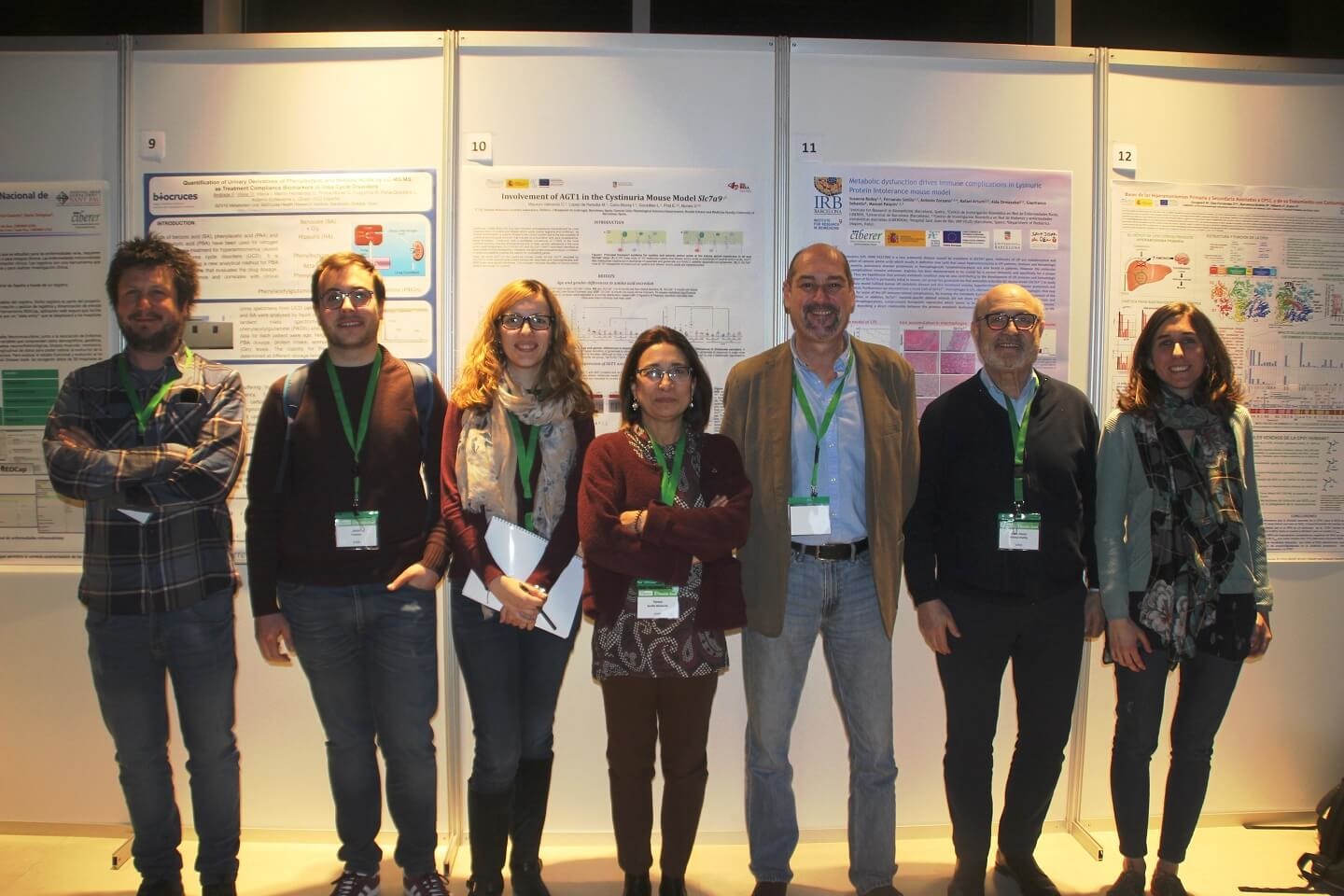 Un encuentro que ha reunido a más de 250 investigadores entre el 12 y el 14 de marzo en Castelldefels (Barcelona) y en el que los grupos del centro han presentado más de 100 proyectos colaborativos.
Los grupos que dirigen los doctores José María Millán y Juan Vílchez Padilla han presentado cuatro trabajos, que pueden consultarse en el Libro de Resúmenes, sobre miopatía distal, Distrofia Muscular LGMD1fF, distrofias de retina hereditarias y enfermedad de Huntington.
Según la organización de la Reunión Anual del CIBERER, han destacado los 'proyectos de investigación para la obtención de diagnósticos, muchos de ellos ya implantados en la práctica clínica, e investigaciones en diferentes tipos de terapias avanzadas para las enfermedades raras'.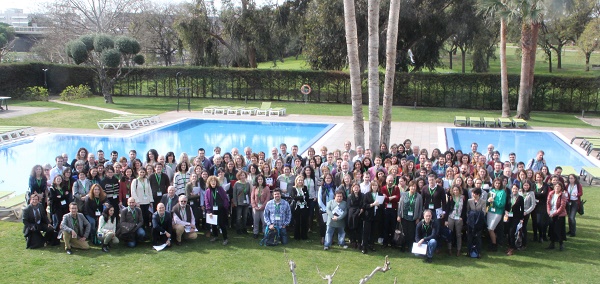 El encuentro ha acogido mesas redondas sobre diagnósticos, terapias y comunicación de la ciencia y h servido para presentar el nuevo Plan Estratégico 2018-2021 del CIBERER, que está alineado con las prioridades marcadas por el Consorcio Internacional de Investigación en Enfermedades Raras (IRDiRC): diagnóstico de todas las enfermedades raras y desarrollo de 1.000 terapias.
Resumen de los trabajos presentados por los grupos del IIS La Fe
Autophagic neuromyopathy caused by p.R140G Heat Shock Protein B1 (HSPB1) gene mutation
Frasquet, M (1, 2) ; Muelas, N (1,2); Lupo, V (3); Azorin, I (2); Vilchez, R (2); Chumillas, MJ (2,5); Rojas, R (6), Espinós, C (4); Sevilla, T (1 2 4); Vilchez, JJ (1, 2,4). Grupo CIBERER: U763 Servicio de Neurología, Hospital UiP La Fe, Valencia
Mutations in the heat shock protein B1 (HSPB1) gene are responsible of a variety of neuromuscular disorders including diverse forms of neuropathies and rare cases of distal myopathy, the latter not being fully characterized yet. The mechanism responsible of these variable phenotypic manifestations reminds unrevealed. We report a large cohort of patients from different families harboring the same mutation in the HSPB1 gene. Our data provides novel pathological features that contribute to the understanding of the pathogenesis of HSPB1 -related disorders. Methods: Clinical, neurophysiological and muscle MRI evaluations. Muscle and sural nerve biopsies studied by conventional, immune-fluorescence and electron-microscopic methods. Sanger and NGS methods (gene panel) for genetic studies. Results: The cohort comprises 18 Spanish patients (6 families) harboring the HSPB1 p.R140G mutation. Twelve subjects from 5 families developed a neuropathy (distal hereditary motor neuropathy and CMT2). The additional six patients belonged to a different family and presented a myopathic picture that was characterized by raised serum creatine-kinase (CK) and progressive distal weakness in three cases and as a long-lasting asymptomatic hyperCKemia in the other two. There was an asymptomatic carrier with normal ancillary tests. Pathologically the myopathy was characterized as an autophagic vacuolar myopathy (AVM) defined by the occurrence of sercolemma linend vacuoles (SLV), proliferation of phagosomes and presence of aggregates containing the autophagic markers LC2-II and p62. Conclusions: This study gives more insights into the clinical presentation of HSPB1 gene mutations and widens the list of causes of AVMs. This observation may also contribute to guide futures research approaches.
Terapia de la Distrofia Muscular LGMD1fF mediante CRSPR/cas9
Poyatos-García J, Gomis C, Vázquez-Marique R, García-Garcia G, Martin R, Vilchez JJ Grupo CIBERER: U763 Servicio de Neurología, Hospital UiP La Fe, Valencia Otros grupos: U701, U755
La distrofia muscular LGMD 1F es una enfermedad rara autosómica dominante causada por una mutación puntual en el codón Stop nativo en el gen de la transportina 3 que produce la extensión de la pauta de lectura hasta el siguiente codón STOP en 3' UTR. De esta manera se produce una proteína con 15 aacs extra, afectando al transporte entre el citoplasma y el núcleo de ciertos factores de splicing, llevados a cabo por dicha proteína. Mediante la aplicación del sistema Crispr/Cas9 a esta enfermedad pensamos en inducir una deleción para eliminar la cola aberrante producto de la mutación. Para ello diseñamos 3gRNAs mediante predictores bioinformáticos. Debido a la limitación de la región, los gRNAs obtenidos presentaban muchos off-targets, pero tras un análisis bioinformático exhaustivo se redujo la lista a 9 posibles off-targets entre los 3gRNAs candidatos, y demás presentaban más de 2 mistmaches. Los gRNAs fueron clonados en un plásmido que contienen la spCas9 y transfectados en células HEK293 para evaluar su eficiencia mediante la endonucleasa T7. 2gRNas fueron cotransfectados en células HEK293 y se comprobó que producían la deleción deseada. Actualmente estamos intentando introducir el sistema Crispr mediante Ribonucleoproteínas en mioblastos primarios de pacientes afectados por la enfermedad aún sin resultados satisfactorios. Paralelamente hemos recientemente empezado el diseño del sistema Crispr/Ca9 para realizar un modelo de enfermedad en el gusano C.elegans. Debido a que estos gusanos son transparentes, sería un modelo ideal para los estudios funcionales de transporte entre núcleo y citoplasma.
Progress in the genetic diagnosis of inherited retinal dystrophies
García-García, G., Rodríguez-Muñoz, A., Hernán, I., Riveiro-Álvarez, R., Ávila-Fernández, A., Carballo, M., Ayuso, C., Barranco, H., Gallego-Pinazo, R., Jaijo, T., Aller, E., Millán, JM. Grupo CIBERER: U755 Unidad de Genética, Hospital Universitario La Fe, Fundación para la Investigación del Hospital La Fe, Valencia
Inherited retinal dystrophies (IRD) encompass a group of disorders characterized by progressive loss of photoreceptors. The genetic diagnosis by traditional methods is challenging due to high genetic heterogeneity and clinical variability of the IRD. Therefore, the aim of this study is the molecular diagnosis by next generation sequencing of patients with IRD. We designed a panel including 117 genes and 5 deep intronic mutations. We used SureSelectQXT (Agilent) for library construction and MiSeq (Illumina) for samples sequencing. Data were analysed by SureCall (Agilent) and wANNOVAR (WGLab) softwares. We analysed 8 patients, with mutations previously detected in 8 genes responsible of IRD, as controls for the panel validation. Then, we sequenced a cohort of 115 patients clinically classified as IRD but without molecular diagnosis. The designed panel had a size of 490kbp. The average depth was 228x and the 98% of bases had a depth >50x. We detected the 100% of control mutations: one splicing mutation, 2 missenses, 5 frameshifts and one 5 exons deletion. We diagnosed 55% of patients studied and we found ABCA4 (22%), USH2A (13%) and RPGR (13%) as the most frequently mutated genes. In 16% of patients we identified only an allele mutated in a recessive gene and in the 29% we did not detect any mutation. Our results are promising as the detection rate of the panel is higher than 50% of all the patients analysed. Further analysis as MLPA, CGH-array, RNA sequencing or exome sequencing would be needed to complete the diagnosis of unsolved patients.
sir-2.3/SIRT4 Modula la Agregación de Proteínas con Poliglutaminas en C. Elegans
Bono-Yagüe J., Milla V., Gómez-Escribano A.P., Sequedo M.D., Blanca J., Cañizares J., Millán J.M., Vázquez-Manrique R. Grupo CIBERER: U755 Unidad de Genética, Hospital Universitario La Fe, Fundación para la Investigación del Hospital La Fe, Valencia
La enfermedad de Huntington (EH) es una enfermedad rara neurodegenerativa de herencia autosómica dominante, caracterizada por un declive motor, psiquiátrico y cognitivo. EH está causada por una expansión de codones de CAG, que codifican un tándem de glutaminas (poliQs) en el primer exón del gen htt. La proteína codificada por este gen, huntingtina (Htt), adquiere una función tóxica cuando los portadores presentan más de 36 o más tripletes CAG. Esto es porque la huntingtina mutante (mHtt) es propensa a la agregación sobre sí misma y a otras proteínas. Las propiedades tóxicas de mHtt son reproducibles, mediante la expresión de la secuencia de poliQs, en cualquier organismo. En nuestro laboratorio, hemos empleado un modelo de Caenorhabditis elegans para buscar genes que modifican la dinámica de agregación de proteínas con poliQs. Mediante un experimento de mutagénesis al azar, se obtuvo una mutación en una sirtuína mitocondrial, sir-2.3/SIRT4, que reduce los niveles de agregación de proteínas con poliQs. Además, esta mutación en sir-2.3 parece tener un papel modulador de la toxicidad inducida por poliQs, puesto que rescata la función de neuronas estresadas por estos péptidos en C. elegans. En este trabajo se ha comprobado que AMPK, un regulador maestro del estado energético celular, es parcialmente responsable del rescate producido en los mutantes sir-2.3. Además, hemos estudiado el potencial papel de la autofagia en este proceso regulado por AMPK y sir-2.3. Por último, hemos empleado CRISPR para editar sir-2.3, y poder analizar el posible mecanismo de modulación de las proteínas que contienen poliQs.