The IIS La Fe organizes the I Meeting on Biomedical Research and Innovation in the Valencian Community
The objective of the event that will be held next Friday, April 28, is to publicize the activity of the health research institutes and research centers of the Valencian Community and to share good practices and success stories in the management and development of research, innovation and the relationship with society.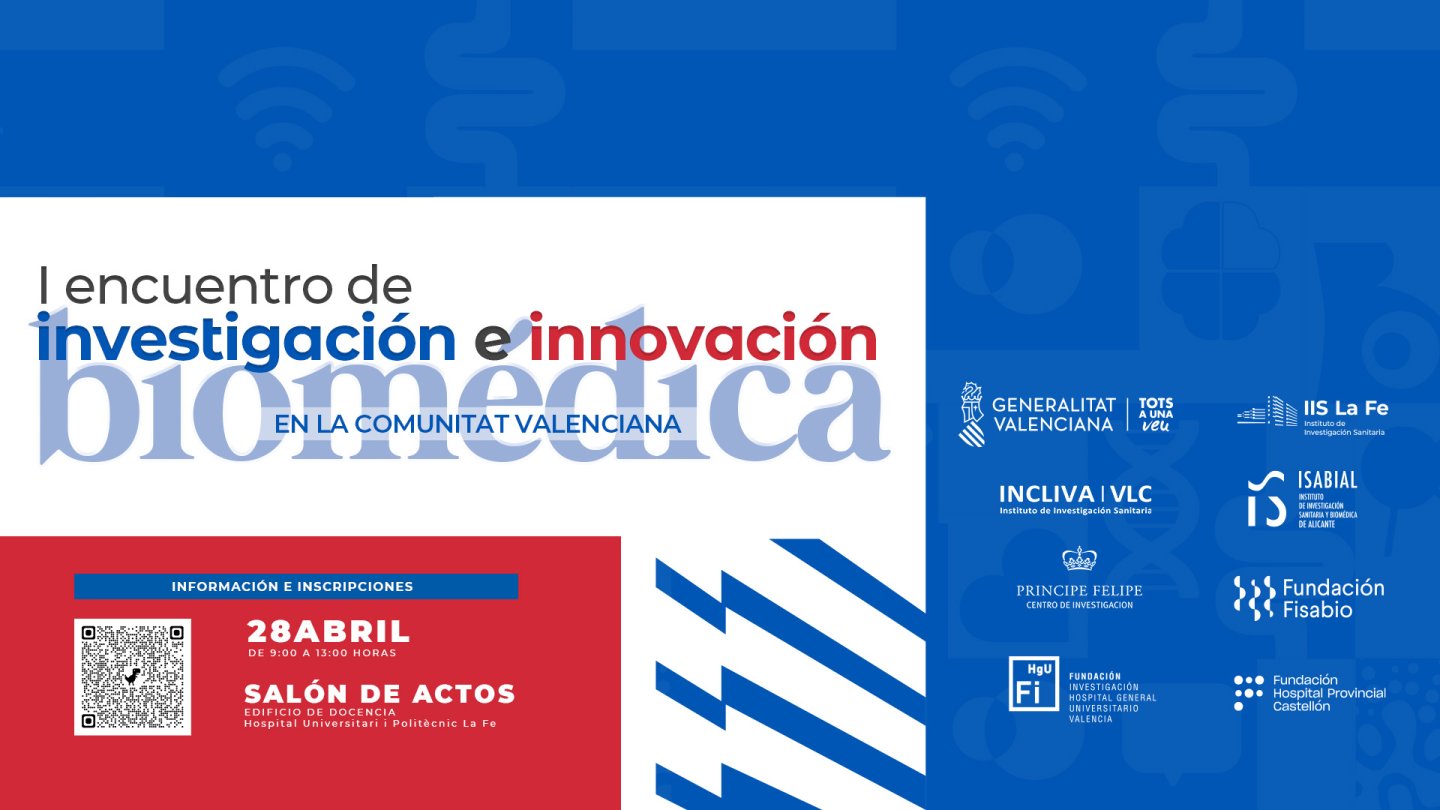 Next Friday, April 28th, the first Meeting on Biomedical Research and Innovation will take place in the Valencian Community. The assembly hall of Hospital La Fe will host this meeting of all the health research institutes and research centers of the Valencian Community.
The event will take place through three sessions that will include the intervention of a representative of each institution: IIS La Fe, INCLIVA, ISABIAL, FISABIO, CIPF, the Research Foundation of the General University Hospital of Valencia, the Provincial Hospital Foundation of Castellón, who will share a relevant and strategic success story, project, initiative, procedure in the fields of Research, Innovation and Transfer and Responsible Research and Innovation (RRI).
09:30 h. INAUGURATION
Guillermo Sanz, scientific director of the IIS La Fe; Bernardo Valdivieso, director of planning of Hospital La Fe.

09:40 h. RESEARCH SESSION
ISABIAL. Aggressive or Moderate Fluid Resuscitation in Acute Pancreatitis. Enrique de Madaria, scientific deputy director for projects and head of the Clinical Research group in Pancreatology.
IIS LA FE. Primage, desarrollo de métodos de análisis computacional de imágenes médicas aplicados al cáncer infantil. Luis Martí-Bonmatí, Head of the Biomedical Imaging Research Group (GIBI230).
CIPF. Avanzando en el desarrollo de la Medicina Personalizada con la inclusión del sexo y género en la investigación biomédica. Francisco García-García. Chief Researcher of the Bioinformatics and Biostatistics Unit/Gender Biomedical Research Unit.
FISABIO. Genómica y fragilidad: Análisis genoma y microbioma para la predicción, diagnóstico y seguimiento de la fragilidad. Vicente Pérez. Grupo SIMBIOSIS. Unidad Mixta FISABIO-I2Sysbio (UV-CSIC).
FUNDACIÓN DE INVESTIGACIÓN DEL HOSPITAL GENERAL DE VALÈNCIA. Biomarcadores en cáncer de pulmón. Biopsia líquida y organoides. Carlos Camps. Director of the Molecular Oncology Laboratory FIHGUV. Jefe del grupo de Investigación perteneciente al CIBERONC en tumores del Tracto respiratorio. Co-IP de la Unidad mixta Trial FIHGUV-CIPF.
FUNDACIÓN DEL HOSPITAL PROVINCIAL DE CASTELLÓN. Biomarcadores de Imagen en estudios RM de cáncer de próstata con bloqueo androgénico. Ángel Luis Sánchez. Radiation Oncologist of the Provincial Hospital Consortium of Castellón.
INCLIVA. Autorreparación muscular, un nuevo mecanismo que abre vías para explicar el envejecimiento muscular. María Carmen Gómez, coordinator of the Research Group on Exercise, Nutrition and Healthy Lifestyle.

10:40 SESSION ON INNOVATION AND TRANSFER
IIS LA FE. PROSTACTUM. Dispositivo para el tacto de la próstata como método objetivo de cribado del cáncer prostático. César David Vera. Head of the Integrated Urological Translational Research Center of Valencia (NITIUV).
ISABIAL. Proyecto GLIO-IA. Plataforma integral e inteligente para la medicina de precisión aplicada a tumores cerebrales. Luis Miguel Valor, Head of ISABIAL's research group on Genetics, Epigenetics and Transcription in Neuropathologies. Researcher Miguel Servet.
CIPF. Bridging early academic research & clinical development on polypeptide-based nanomedicines. Lessons learnt with PTS. Inmaculada Conejos-Sánchez, AECC Junior researcher, CIPF Polymer Therapeutics Lab.
INCLIVA. HistShock. Desarrollo de un test diagnóstico y pronóstico para el manejo clínico de la sepsis. José Luis García, IP from the INCLIVA Research Group on Translational Epigenetics and Epigenomics. (@gargijo)
FISABIO. Desarrollo de un prebiótico para la salud oral y sistémica. Álex Mira . Principal Investigator of the Fisabio Oral Microbiome group.
FUNDACIÓN DE INVESTIGACIÓN DEL HOSPITAL GENERAL DE VALÈNCIA. REALISTIC: Primera unidad piloto Impresión 3D de modelos anatómicos REALIStas para el esTudio y planificación quirúrgica en la Comunitat Valenciana. Andrés Sanz, Senior Researcher of the Biomedical and Tissue Engineering research group.

11:40 h. RRI SESSION
ISABIAL. SCIENCE GTS. Elena Bertomeu, managing director.
INCLIVA. Aspectos éticos y legales en el desarrollo de un ensayo clínico. Begoña Bermejo, Researcher of the Breast Cancer Biology Research Group
CIPF. Política de Compliance Penal y Código Ético en el CIPF. Luis Antonio Castillo. Manager.
IIS La Fe. Comisión Ciudadana para la evaluación de proyectos de investigación. Anna Juan, communication coordinator.
FISABIO. Servicios de apoyo a la investigación e innovación desde los principios de la Ciencia Abierta. Patricia Martínez, manager for the promotion and dissemination of R+D+I. Open Science Unit.
FIHGU VALENCIA. Innovación y docencia como solución a los problemas en cirugía robótica. Emilio López. Co-director of the UV-FIHGUV Chair of Robotic Surgery. Innovation Group in Robotic Surgery CGHUV-FIHGUV. Head of the FIHGUV Urology Laboratory Group.

12:40 h. ROUND TABLE MANAGEMENT OF IIS AND RESEARCH CENTERS. Conclusions and final statement.
Vicente de Juan. INCLIVA.
Ainhoa Genovés. IIS LA FE.
Luis A. Castillo. CIPF.
Mónica Pont. FISABIO.
José Sánchez Payá. ISABIAL.
Carmen Escobedo. FIHGUV.
13:00 h. CLOSURE
Guillermo Sanz, scientific director of the IIS La Fe, EVA Salvo, manager of Hospital La Fe, Miguel Mínguez Pérez, conseller de Sanitat Universal i Salut Pública.