The Orden del Querer Saber association donates 12,300 euros to Alzheimer's disease research at IIS La Fe
La Orden del Querer Saber is a non-profit association dedicated to the organisation of acts and events for charitable purposes. Among its activities is the organisation of conferences with prominent personalities to disseminate and share knowledge.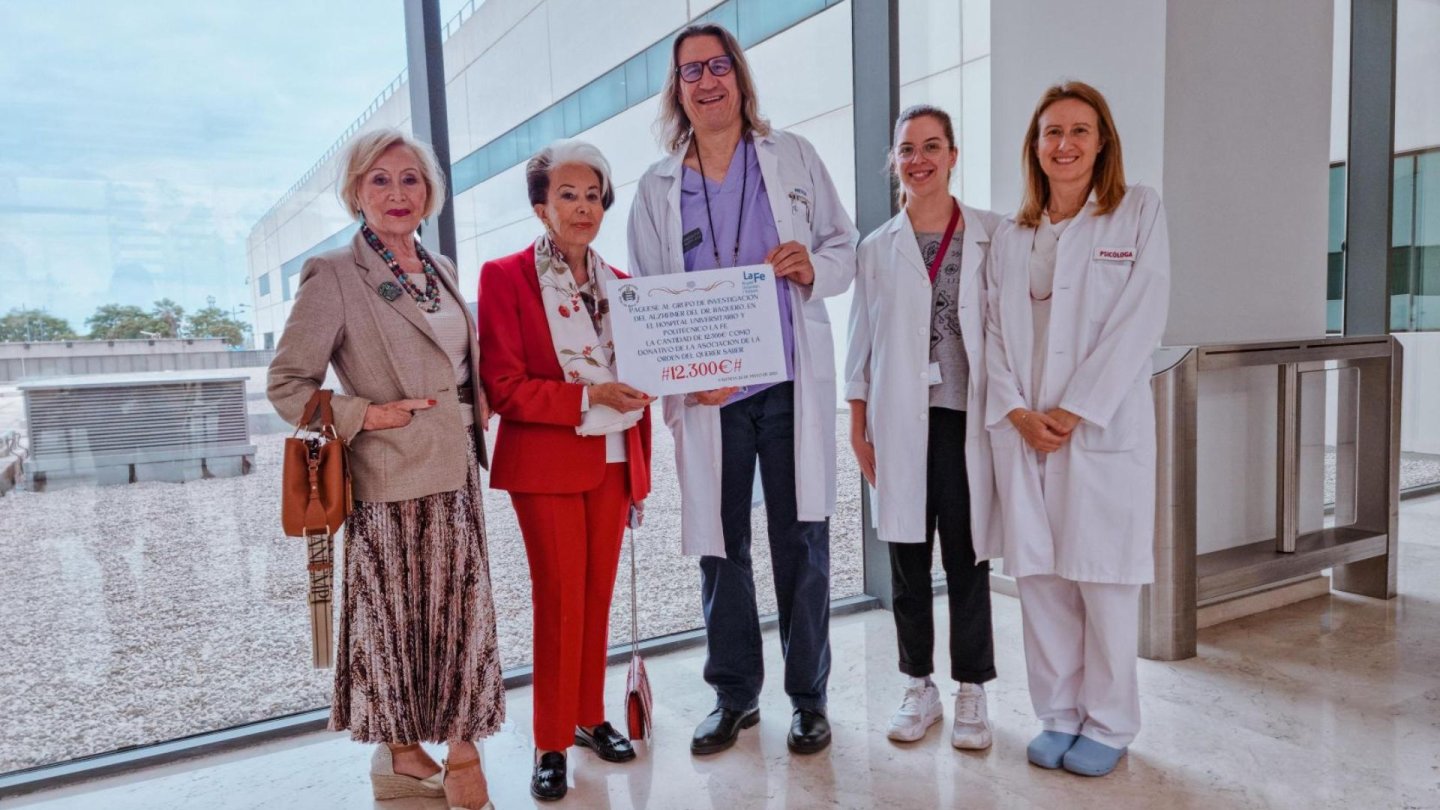 Marisa Marín, founder of the Orden del Querer Saber association, presented the symbolic cheque certifying the donation of 12,300 euros to the La Fe Health Research Institute (IIS La Fe), to Dr. Miquel Baquero, who is principal investigator of the Alzheimer's Disease research group (GINEA) and neurologist at the Cognitive Disorders Unit of the University and Polytechnic Hospital of Valencia, together with Dr. Consuelo Cháfer, Miguel Servet researcher at the IIS La Fe.
The funds, raised at the gala awards ceremony for personal and professional excellence that the association organises every year, will go to one of the research projects being carried out by the group with the aim of detecting and developing biomarkers useful in the diagnosis, prognosis and therapeutic management of Alzheimer's disease. The group also seeks to expand knowledge of the pathophysiological mechanisms of other neurodegenerative diseases in addition to Alzheimer's disease.
The Orden del Querer Saber
The Orden del Querer Saber focuses its efforts on raising resources to support projects that help people live better lives. The Orden contacted Dr. Miquel Baquero showing their interest in Alzheimer's Disease (AD) with the purpose of making a financial donation. They also requested a conference to learn more about the work of the group, as well as other aspects of the disease, which took place on 15 December at the Ateneo Mercantil in Valencia. On behalf of the group, Lorena García Vallés, clinical neuropsychologist, and Laura Ferré, pharmacist and researcher, gave a presentation on AD and shared an evening where many of the attendees' questions were answered.