Research Support
Scientific Technological Platforms
La Fe Biobank platform
What do you need to request biological samples for research purposes?
What are we going to ask you from La Fe Biobank?
The report of the research project.
The curriculum vitae of the Principal Investigator.
Favorable opinion of the Ethics Committee of the center of origin.
Favorable opinion of the Scientific Committee or Research Commission of the center of origin.
La Fe Biobank also performs additional scientific, technical and methodological support and advisory services for internal and external researchers at the Hospital Universitari i Politécnic La Fe and the Instituto de Investigación Sanitaria La Fe.
→ Tell us what support you require through the services form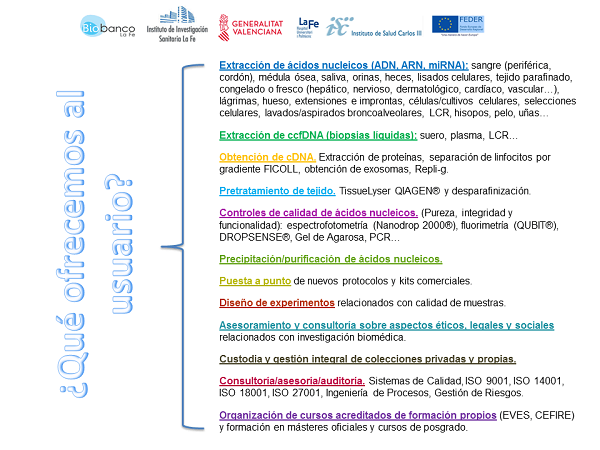 In May 2017 we participated in three INTERNATIONAL SAMPLE QUALITY PROGRAMS promoted by ISBER (International Society for Biological and Environmental Repositories) to validate some of our processes
How else can we help you?
The quality management system of La Fe Biobank is certified in accordance with ISO 9001:2015 for the following activities: reception, preparation, storage and supply of biological samples of human origin for biomedical research purposes as a biobank.